HISTORY - 2011 Salem Camp Meeting - 7 PM nightly June 19 - 26
1647 Salem Road Benton, Arkansas 72019
The 2011 camp meeting is history. Have you seen our current web page?
The 2011 camp meeting was a success thanks to many people who worked behind the scenes, the different groups that provided great music each night, and the evangelist, Carlton Cross. Camp meeting is a special and rare treat when people of different faiths put aside their doctrinal differences and come to worship our Lord and Savior. We made new friends and renewed old friendships at camp meeting. Together we enjoyed listening to gospel music provided by a different group each night. We formed an impromptu choir each night for congregational singing. Some nights a small group gathered around the piano after service to sing a few songs prior to adjourning to the fellowship hall for refreshments and visiting.
The last night of camp meeting is traditionally the official memorial service with the names of those who died the past year being read, and we take time to remember our loved ones who have passed on. Song leader Lynn Hoggard led the congregation in a teary verse of "God Be With You Till We Meet Again" at the very end of the service. We will see many of you at the 2012 camp meeting, but some may be missing until we meet again in Heaven.
If you have questions that are not answered here, please call the Salem UMC at 501-316-2282. If you would like to share your camp meeting experiences and photos with us, please visit our Facebook page.
The Salem United Methodist Church hosts the Salem Camp Meeting, and the guest ministers are Methodists. However, many of the musical groups are from other churches and denominations, and the camp meeting administration is inter-denominational.
A brief summary of some of the special music groups follows, and you can learn more details by clicking the links on the schedule at the left side of this page. All the musicians and singers either hold regular jobs, or are retired. Singing gospel music is their ministry, and they were willing to minister at no charge.
---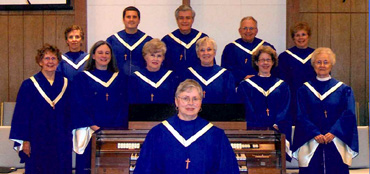 Sunday 6/19/2011 - Salem United Methodist Church Choir
The choir from the host church is providing special music to kick off the week long camp meeting. The choir director is Patricia A. Laster. Sopranos: Bettye Bragg, Laura Cross, Carol Rushing, and Donna Harrell, Ann Dague. Altos: Frances Pelton and Carolyn Hoggard. Tenor: Mary Jane Dove. Bass: Lynn Hoggard and James West.
---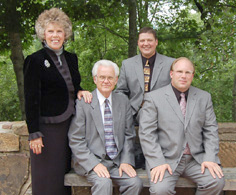 Monday 6/20/2011 - Hawkins Family
The Hawkins Family is from Hot Springs, Arkansas, and has been active in gospel music for over 50 years. The Hawkins Family continues to carry on the tradition of sharing the true meaning of the cross and the joys of a Christian life at revivals, benefits, concerts, singing conventions, homecomings, county fairs, and camp meetings. The group is composed of Morris Tabor, Lou Tabor, Terry LeMay, and Paul DeWeber. The Hawkins Family joins with other gospel music groups to provide an outdoor concert at Hickory Hill Park north of Hot Springs every 4th Satruday night May through September with the July weekend being an extended event.
On Monday the lead singer and bus driver became ill, but the rest of the group came anyway and blessed us with some good old fashioned gospel music. Paul DeWeber, the youngster of the group, did a good job of substituting for the lead vocal part, and still managed to play the violin part of the time. He graciously agreed to also play during the congregational singing along with violinist Charles Young. The group was unable to bring any CDs to sell, but were willing to travel in a van and share their ministry with us at their own expense with no expectation of monetary compensation.
---
Tuesday 6/21/2011 - Level Ground
For over a decade Level Ground Ministries has been sharing gospel songs and testimonies with audiences in parts of Texas, Oklahoma, Kansas, Missouri, and their home state of Arkansas. Level Ground is composed of talented singers and musicians who perform live music (no soundtracks) that is a good mixture of southern and contemporary gospel, country, doo-wop, bluegrass, blues, and what Joe Chambers calls "Bluesgrass."
Several members of the group are talented song writers including Jeni Hill and Joy Goines who have written songs that have placed high on the internet charts. Level Ground has several CDs for sale. The group records their music at Crystal Studios in Bryant, Arkansas. Tuesday evening two generations were performing, and some of a third generation (grandchildren) were also present. Thanks to Level Ground for ministering in song at the Salem Camp Meeting for several years.
---
Wednesday 6/22/2011 - One Accord
Four women whose music will bless you as they blend their voices to sing southern gospel and contemporary Christian music that exalts the Savior and encourages believers. Quartet members are: Mary Ellen Bowman, Sheryl Boyd, Lamona Lawrence, and Susan Tacker. Besides singing in the quartet, all four women are now or have been involved in various ministries at their church -- Park Hill Baptist Church in North Little Rock, Arkansas. One Accord has been singing God's praises since 1998. They have several CDs for sale.
All four of these ladies are able to sing lead as well blend harmony parts to produce an outstanding quartet sound. No less important is their ability to talk confidently about their struggles and their faith in God.
---
Thursday 6/23/2011 - The Keisler Brothers
This 3 man band from Sheridan, Arkansas is well known to fans of bluegrass music. The band is composed of brothers Redmond Keisler and Randy Keisler, together with their long time friend Rodney Heslep. Besides singing gospel bluegrass songs at churches, they also sing good clean contemporary ballads and songs at festivals and other events. The Keisler Brothers have a foundation of good Christian roots and rural upbringing from which springs a love of God and music. The group has performed several weekends at Dorey's Catfish Restaurant in Leola, Arkansas, and is planning a bluegrass festival there on June 25, 2011 along with three other bands.
Unfortunately Randy Keisler had some serious ailments that prevented him from traveling with the group. Although Randy was missed, the group blessed us with some good gospel bluegrass music. The group was on Good Morning Arkansas on KATV on Wednesday morning promoting their fund raiser for Randy at Dorey's, and also promoted their appearance at the Salem Camp Meeting.
---
Friday 6/24/2011 - Heaven's Echoes
Heaven's Echoes began singing Southern Gospel music in 1983. The group started out singing specials in church, and soon expanded to sharing the gospel in song at festivals, fairs, revivals, benefits, and camp meetings in several different states. Making up Heaven's Echoes are Gus and Judy Biggers, Dwayne and Debbie Ward and Mike Davidson. The group has several tapes and CDs for sale. More
Besides an outstanding musical performance, we got to know a little about the family's troubles: the death of a teenager in an auto accident and cancer, and how their faith has sustained them through it all. Kevin Cleghorn joined the group for a few songs.
---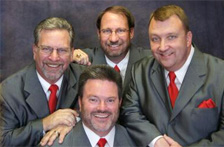 Saturday 6/25/2011 - The Voyagers Quartet
Mark Lackey, Randy Barnes, Robin Morgan, and Steve Williams have been singing together since 2008, but the members of the group have been singing gospel music all their lives with different groups such as The Melody Boys, Generations Quartet, Cross Point, The Apostles, Men of Faith, and Sweeter Journey. In less than 3 years, The Voyagers Quartet has already released 4 CDs. A fifth CD and a live concert DVD are slated for release soon.
Monday morning (the second day of camp meeting) The Voyagers Quartet appeared on Good Morning Arkansas on KATV Channel 7 to sing a couple of songs and promote their appearance at the camp meeting. These men have perfected the art of Southern Gospel quartet music. Their humor may not have been as polished as their music, but it was endearing none the less. What a joy to see four guys so obviously enjoying what they do.
---
CD sales were to be the only monetary compensation for the special music groups, but at the conclusion of camp meeting, the camp meeting board agreed to give each special group a token gift of $75. It is obvious that these groups are not singing to get rich (or even to recoup their expenses), but rather to glorify God and to lay up treasures in Heaven.
Reverand Carlton Cross is the guest minister this year, and coincidentally Camp Meeting marks the beginning of his new pastorate at the Salem United Methodist Church. He has pastored churches in Prescott, El Dorado, Jonesboro and Rogers. The summer of 2010 he served as the evangelist for the Davidson Camp Meeting at Arkadelphia, one of only four Methodist camp meetings still active in Arkansas.
Let everyone join in singing the old hymns! At 7:30 PM Lynn Hoggard leads the congregation in singing some old hymns, accompanied by pianist Kathleen Dockery.
Lynn Hoggard of Benton is a retired band director and has been performing since he began singing solos in church as a 3-year-old. He comes from a large musical family. He taught band, vocal music and music education in public schools in Missouri, Kansas and Arkansas, including Bryant and Bauxite. He sang professionally with the Four Jacks quartet and has performed with a number of bands through the years.
For several years, Hoggard has played stand-up bass for Royal Players productions at the Royal Theatre in Benton. He currently sings with the Ouachita State University faculty quartet. Hoggard is a graduate of England High School and Arkansas State Teachers College (now University of Central Arkansas), where he earned a Bachelor of Music Education degree. He holds a Master of Music Education degree from Wichita State University. Hoggard is married to the former Carolyn Couch. They have two sons and one grandchild.
Kathleen Dockery serves as praise team director and pianist for contemporary and traditional worship services at Oaklawn United Methodist Church in Hot Springs. She has never lost her childhood enthusiasm for and enjoyment of music which is so evident as she plays the piano in her unique and sometimes flamboyant way.
Dockery has been involved in gospel singing conventions for at least 50 years as the pianist and / or an officer. She is the secretary treasurer for the Arkansas River Valley Gospel Singing Convention in Atkins, Arkansas; former president of the Garland County Gospel Singing Convention in Hot Springs; the Arkansas State Gospel Singing Convention; and the Arkansas-Oklahoma Gospel Singing Convention. These conventions carry on the tradition of hosting gospel music concerts an entire weekend including Friday night, all day Saturday, and usually Saturday night. You can see a Gospel Singing Convention Schedule that includes Arkansas events here, and a schedule of mostly Texas gospel music festivals here.
Dockery has taught piano privately for many years and taught for 44 years in the Hot Springs and Lakeside school systems. She is the mother of two children and grandmother of seven, including two sets of twins.
---
You can read a summary of the origins and history of the Salem Camp Meeting here.
Webmaster: chdyoung@gmail.com