HISTORY - 2012 Salem Camp Meeting - 7 PM nightly June 17 - 24
1647 Salem Road Benton, Arkansas 72019
The 2012 camp meeting is history. Have you seen our current web page?
We welcome people of all denominations who wish to join with us to worship God as we continue our annual camp meeting tradition in Saline County. The annual community-wide camp meeting is held under an open-air arbor (tabernacle) featuring old-fashioned church services for 8 nights. Each night a different group provides special music from 7 PM to 7:30 PM followed by the congregation singing old hymns and a sermon by the camp meeting evangelist.
---
Guest Minister: Dr. David W. Bush, pastor of First United Methodist Church in Stuttgart, Arkansas. Dr. Bush has been a minister for 35 years, has held evangelistic services in 66 of the 75 counties in Arkansas, and has pastored congregations where the attendance was as little as 21 people and as much as 1300+ people. David loves to preach the "Good News of Jesus!" He has taught at several schools and colleges, and has served on several Conference committees. Dr. Bush and his wife Joanie have two grown children and a granddaughter. Brother Bush is a duck hunter and a Razorback fan.
---
Sunday 6/17/2012 - Salem United Methodist Church Praise Team
The group sings contemporary folk gospel along with some traditional southern gospel songs. Musicians include Laura Cross - keyboard, Randy Cross - bass, Steve Davis - acoustic guitar, and Roger Welch - drums. Singers include Penny Green, Suzanne Thomas, Kathy Deweerd, Cathy Heath, Mike Heath, Doug Wilson, Randal Johnson, Lynn Davis, Debbie Kirk, Leslie Younts, Lynne Baer, and Beth Sanchez. The photo is from the 2011 camp meeting.
---
Monday 6/18/2012 - Calvary Assembly of God Church Choir

A small church choir with big Pentecostal enthusiasm singing a mix of favorite old hymns and hand-clapping worship music. Some songs feature solos, duets, and trios. Choir members and musicians include; Martha Anglin, Barbara Bliss, Freda Carter, Geraldine Casey, Brenda Davis, Chris Davis, Danny Duvall, Stevie Duvall, Don Goodson, Jo Ann Goodson, Shirley Kirk, Betty Mobley, Morgan Haley Roach, Ann Shelby, and Charles Young. You can listen to a few of their songs here.
---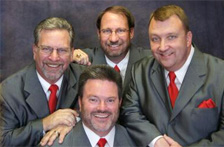 Tuesday 6/19/2012 - The Voyagers Quartet

The Voyagers have been blessing people with good old Southern Gospel quartet singing since 2008, but members of the group have been singing gospel music all their lives with groups such as The Melody Boys, Generations Quartet, Cross Point, The Apostles, Men of Faith, and Sweeter Journey. There have been some recent personnel changes, so the picture is not up to date. The Voyagers Quartet has recorded several CDs which will be available for sale on Tuesday night.
---
Wednesday 6/20/2012 - Praise Team - Hot Springs Oaklawn United Methodist Church

The Oaklawn Praise Team has lead the music for the 8:30 a.m. Contemporary Worship Service since 2002 as well as sharing their musical talents in other venues including camp meetings around Arkansas. Praise Team Members are: Kathleen Dockery, Music Director and Piano; Doyle Watson, Bass Guitar; Josh Boone & Al Quesnel, Guitars; Steve McMahan, Drums; David Ashcroft, Harmonica; Glen Martin, Lead Guitar; Sharon Bard, Brianna Dumas, Sidney Dye, Jim & Jeanne Elder, Barbara Guinn, Chris Holzer, Rev. Fred W. Hunter, Bobbi Rice, Dr. Blake Robertson, Richard Shaw, and Shelly Tankersley.
---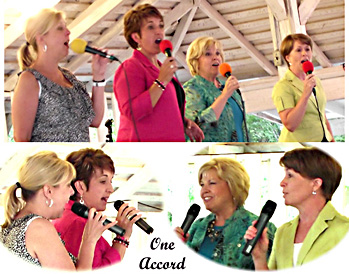 Thursday 6/21/2012 - One Accord
These four women will bless you as they blend their voices to sing southern gospel and contemporary Christian music that exalts the Savior and encourages believers. Quartet members are: Mary Ellen Bowman, Sheryl Boyd, Lamona Lawrence, and Susan Tacker.
Besides singing in the quartet, all four women are now or have been involved in various ministries at their church -- Park Hill Baptist Church in North Little Rock, Arkansas. One Accord has been singing God's praises since 1998. They have several CDs for sale.
Photos are from the 2011 camp meeting.
---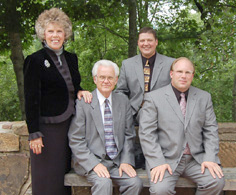 Friday 6/22/2012 - Hawkins Family
The Hawkins Family is from Hot Springs, Arkansas, and has been active in gospel music for over 50 years. The Hawkins Family continues to carry on the tradition of sharing the true meaning of the cross and the joys of a Christian life at revivals, benefits, concerts, singing conventions, homecomings, county fairs, and camp meetings. The group does live music with some members playing different instruments at different times. The group consists of Morris Tabor, Lou Tabor, Terry LeMay, and Travis Brown.
The Hawkins Family joins with other gospel music groups to provide an outdoor concert at Hickory Hill Park north of Hot Springs every 4th Saturday night May through September with the July weekend being an extended event.
---
Saturday 6/23/2012 - The Redmond Keisler Band
This group from Sheridan, Arkansas is well known to fans of bluegrass music. Besides singing gospel bluegrass songs at churches, they also sing good clean contemporary ballads and songs at festivals and other events. Brothers, Redmond and Randy Keisler grew up as country boys who came to love God and bluegrass music. The Keisler Brothers started performing in public in the mid 1980's. Randy can no longer perform due to medical problems, so the name of the group has changed. Everyone in the group plays an instrument. Redmond plays the Dobro (Resophonic Guitar), Roy Hale plays the acoustic guitar, Rodney Heslep plays the banjo, and Mike Lane plays the upright bass.
---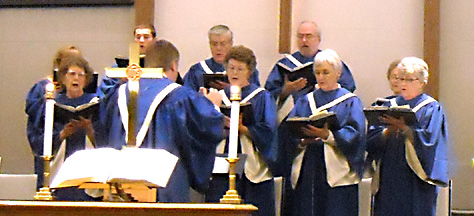 Sunday 6/24/2012 - Salem United Methodist Church Choir
The choir director is Curt Hamlett, and the accompanist is Lena Berry. Sopranos; Bettye Bragg, Laura Cross, Ann Dague, Liz Freeze, Donna Harrell, and Carol Rushing. Altos; Lynn Davis, Carolyn Hoggard, and Frances Pelton. Tenor, Mary Jane Dove. Bass; Lynn Hoggard, Randall Johnson, and James West.
---
The last service is also a memorial service to acknowledge and remember those who have died during the past year. The closing hymn will be in honor of those who have gone on before us to their eternal reward.
Please show your appreciation to our special music groups by purchasing CDs and tapes from them, or at least shake their hands and tell them you appreciate their ministry. CD and tape sales are their main tangible compensation for ministering at the Camp Meeting. It is wonderful that they are laying up treasures in Heaven, but it would be nice if we could help them pay their expenses with procedes from CD sales. If you would like to designate an offering for "special music", we will distribute that money to the groups after camp meeting.
A brief story that illustrates how dedicated and unselfish our special music groups can be: The group that ministered in music on Monday at camp meeting 2011 showed up in spite of serious difficulty. The lead singer and bus driver became ill and went to the hospital on Monday, but the rest of the group came anyway and blessed us with some good old-fashioned gospel music. The group was unable to bring any CDs to sell, but were willing to travel in a van from Hot Springs and share their ministry with us at their own expense with no expectation of monetary compensation. Music is their ministry, and they are willing to minister with little or no monetary reward. Click on the photo of any special music group to view more photos.
---
Let everyone join in singing the old hymns! At 7:30 PM Lynn Hoggard leads the congregation in singing some old hymns, accompanied by pianist Kathleen Dockery.
Lynn Hoggard of Benton is a retired band director and has been performing since he began singing solos in church as a 3-year-old. He comes from a large musical family. He taught band, vocal music and music education in public schools in Missouri, Kansas and Arkansas, including Bryant and Bauxite. He sang professionally with the Four Jacks quartet and has performed with a number of bands through the years.
For several years, Hoggard has played stand-up bass for Royal Players productions at the Royal Theatre in Benton. He currently sings with the Ouachita State University faculty quartet. Hoggard is a graduate of England High School and Arkansas State Teachers College (now University of Central Arkansas), where he earned a Bachelor of Music Education degree. He holds a Master of Music Education degree from Wichita State University. Hoggard is married to the former Carolyn Couch. They have two sons and one grandchild.
Kathleen Dockery serves as praise team director and pianist for contemporary and traditional worship services at Oaklawn United Methodist Church in Hot Springs. She has never lost her childhood enthusiasm for and enjoyment of music which is so evident as she plays the piano in her unique and sometimes flamboyant way.
Dockery has been involved in gospel singing conventions for at least 50 years as the pianist and / or an officer. She is the secretary treasurer for the Arkansas River Valley Gospel Singing Convention in Atkins, Arkansas; former president of the Garland County Gospel Singing Convention in Hot Springs; the Arkansas State Gospel Singing Convention; and the Arkansas-Oklahoma Gospel Singing Convention. These conventions carry on the tradition of hosting gospel music concerts an entire weekend including Friday night, all day Saturday, and usually Saturday night. You can see a Gospel Singing Convention Schedule that includes Arkansas events here, and a schedule of mostly Texas gospel music festivals here.
Dockery has taught piano privately for many years and taught for 44 years in the Hot Springs and Lakeside school systems. She is the mother of two children and grandmother of seven, including two sets of twins.
Volunteers set up the piano and sound system every evening prior to the service and tear it all down afterwards -- it cannot be left under the open arbor. Special thanks to Mike Green for providing an exellent sound system for camp meeting. Most of the singing groups use Mike's system since it is more than adequate for their needs.
---
You can read a summary of the origins and history of the Salem Camp Meeting here.

Remembering the 2011 Salem Camp Meeting.
Webmaster: chdyoung@gmail.com