HISTORY - 2021 Salem Camp Meeting - 6:30 PM nightly August 1 - 5
1647 Salem Road, Benton, Arkansas 72019
You can view the 2021 camp meetings online. Links are in the Guest Preachers section of this page. Have you seen our current web page?

We welcome everyone to join with us to worship God and carry on the tradition of many generations of Christians who have gathered together every year for camp meeting. You are invited to attend our old-fashioned church services under the historic open-air arbor (tabernacle).

The Salem Campground is about 4 miles north of Benton, Arkansas. We no longer camp out for a week or two in tents or cabins, and we only have one service in the evening instead of three or four meetings throughout the day, but we still enjoy worshiping God and celebrating the tradition and memories of camp meeting.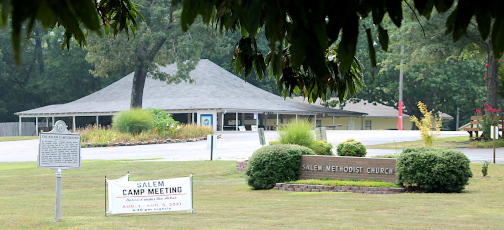 COVID virus update 7/18/2021 - Please respect social distance guidelines to keep each other safe. You are welcome to bring lawn chairs and sit outside the arbor, pews are spaced farther apart, and there are more and wider isles under the arbor. The arbor is open and air flows freely through it. A few picnic tables are available around the arbor, and some people may bring their picnic lunches.

You could listen in your car in the parking lot on 98.7 FM. See our Facebook page for a live stream each night. To view the services later, click "Media," and "Videos".

Changes this year include shorter meeting times of one hour, only 5 nights (Sunday through Thursday), and different speakers each night. Guest speakers include; Rev. Mark Norman, Rev. Todd-Paul Taulbee, Rev. Hammett Evans, Rev. Natasha Murray, and Rev. Roy Smith.

Due to health concerns the choir will not assemble on the platform. The congregation will sing the old hymns led by Randy Mason and accompanied by pianist Kathleen Dockery and the Salem Praise Band.

Bottled water will be available, and a lemonade stand will be taking donations for "The Call," a foster care organization.

We are collecting gently used children's books without readers to give to local young readers without books. Please donate your gently used books. You can also donate checks or cash which will be given to the Saline County Imagination Library so that young readers can receive their very own book in the mail each month.
---
Sunday 8/1/21 - Video - Salem Praise Singers - special music
Rev. Mark Norman is a native of Little Rock, Arkansas. He has served as a pastor in the United Methodist Church since 1992. He is a graduate of Philander Smith College with Bachelors of Arts in Philosophy/Religion. He went on to receive a Masters of Divinity from Saint Paul School of Theology in Kansas City, Missouri.
Mark enjoys preaching, worship leading, various kinds of music, bible study and mission. Brother Mark has been blessed to serve at St. James-Lonoke, Swope Park-Kansas City, Wesley Chapel-Little Rock, Saint Paul-Maumelle, Rossville UMC-Kansas, and Associate Pastor at Benton First. Before being appointed to Highland Valley he was the District Superintendent of the Southeast District in the Arkansas Conference.
In 2016 and 2020 Mark was elected to be the lead clergy delegate to General Conference. He a member of the executive team of the South Central Jurisdiction Episcopal Committee. Rev. Norman has been blessed to be married to Rev. Natasha Murray for 23 years. They are the proud parents of Kelly Murray-Norman and Mylas Murray Norman.
Monday 8/2/21
Rev. Todd-Paul R. Taulbee was appointed as senior pastor to First UMC of Sheridan in June of 2018. Since graduating from Hendrix College (B.A.) in 1994 and Duke University (M.Div.) in 1997, Rev. Taulbee has served as associate pastor at Trinity UMC, Little Rock; started a new church (Foundery UMC) in Lowell; as pastor of Lakeside UMC in Lake Village; as senior pastor of First UMC of Bryant; as senior pastor of First UMC of Morrilton; and as senior pastor of First UMC of West Memphis.
He has been married to Elizabeth, (an English and Oral Communications teacher at Sheridan High School) for 26 years and they are proud parents of Sara, a rising freshman at Sheridan High School. Together the Taulbees enjoy their Labrador Retrievers, Quinn and Dawkins, traveling, watching Sara play soccer, and Duke basketball. But don't hold that against them.
Tuesday 8/3/21 - Video - Salem Praise Singers - special music
Rev. Dr. Hammett Evans came to Asbury UMC in July of 2021. A third-generation Methodist pastor and double-preachers' kid, Bro. Hammett grew up in parsonages in Dallas, Texas and Little Rock, Pine Bluff, Dumas, and Jonesboro, Arkansas. He responded to the call to ministry while a student at Hendrix College by serving as youth minister at FUMC Maumelle and as student local pastor of the Quitman, Damascus, and Enders Charge. After earning his B.A. from Hendrix in 1992, Hammett served as a youth pastor at FUMC Batesville and FUMC Crossett, where he also led the music ministry.
Hammett pastored Mount Zion UMC while he was a student at Candler School of Theology at Emory University in Atlanta, Georgia. At Candler he served as a chaplain intern at Metro State Prison, a correctional institution for female offenders in south Atlanta. After graduating from Candler in 2002, Hammett served as a minister of the Wymondham-Attleborough-Watton Circuit in Norfolk, England. Since then, Hammett has served United Methodist Congregations in Bryant, Fordyce, and Monticello Arkansas. Bro. Hammett received a Doctor of Ministry from Candler in 2020, with an emphasis on Church Leadership and Community Witness. He is passionate about bringing congregations of diverse people together around a common vision that makes a positive difference in their community.
In 2002, Hammett married Michelle Pounds, a native of Hamburg, Arkansas. Michelle works for AState Childhood Services, where she does professional development for early childhood educators and trainers across Arkansas. Together they enjoy traveling, spending time with family and friends, music, movies and TV, and riding their bikes on the Arkansas River Trail.
Wednesday 8/4/21 - Video - Randy Mason - special music
Rev. Natasha Murray is a native Arkansan. A lifelong learner, Rev. Murray earned a Bachelor of Arts in Political Science from Harding University, a Master of Arts in Political Science from Arkansas State University and Master of Divinity with an emphasis in evangelism from Saint Paul School of Theology. Rev. Murray is an ordained Elder in Full Connection and is a member of the Arkansas Conference of the United Methodist Church.
She currently serves as the director of the Wesley Foundation at the University of Arkansas at Pine Bluff in Pine Bluff, Arkansas and the historical St. James United Methodist Church also in Pine Bluff.
Rev. Murray is married to Rev. Mark. Norman. They are the proud parents of two college students Kelly and Mylas Murray-Norman.
Thursday 8/5/21 - Video - Salem Praise Singers - special music
Rev. Roy Patterson Smith is a native of Pine Bluff, AR. After graduating from high school there, he graduated from Hendrix College, and then went to seminary at Duke Divinity School.
Roy has served the following appointments Rowell Circuit, associate at Lakeside, England-Keo, Prescott-Fairview, Malvern, Conference Director of Ministry, FUMC Russellville, and Trinity UMC in Little Rock where he serves currently.
Roy's wife Sandy is a professor of Emergency Management at ATU. They have two children Andrew and Martha. Andrew is married to Rachel and they have a son named Joey.
---
You can view and share camp meeting pictures on our Facebook page. If you search for the "Salem Camp Meeting" group in Facebook instead of clicking this link, you may need to click the "groups" link near the top of the page to see all posts, photos, and albums. This will also allow you to post to the group if you are a member.
The open arbor (tabernacle) where camp meetings are held is a tangible and functional reminder of the days when people actually camped for a couple of weeks in the fall after the crops were harvested. Although the arbor is owned by the Salem United Methodist Church, we hope that everyone will feel welcome to come to camp meeting and worship God as a community the way our forefathers did. We still need and desire to experience God's forgiveness and life-changing power.
Volunteers set up the piano and sound system every evening prior to the service and tear it all down afterwards -- it cannot be left under the open arbor. Special thanks to Mike Green for providing an excellent sound system for camp meeting. Volunteers also work prior to camp meeting making plans and arrangements for the next upcoming meeting, fixing up the arbor, and praying for God's blessings on the camp meeting and everyone who attends.
The camp meetings are organized and run by the Salem Camp Meeting Association. All who are interested in providing input or volunteering are invited join the association by attending the annual meeting. The association elects officers and a board which meets several times a year to conduct camp meeting business. The camp meeting association pays all expenses of the camp meeting including maintaining and improving the arbor.
You can read a summary of the origins and history of the Salem Camp Meeting here.
---
Search for 2021 Salem Camp Meeting Arkansas - another way to find this Salem Camp meeting web page.
If you are looking for church campgrounds that still has campers in the summer as well as nightly services under an open arbor, check out;

Davidson Campground near Arkadelphia, Arkansas where simple cabins remain, but many campers sleep in the air conditioned comfort of an RV or travel trailer parked by their cabins

Ben Few Campground near Fordyce, Arkansas

Ebenezer Campground at Center Point, Arkansas which has simple wooden dormitories called tents.
Several other church groups have campgrounds with rich histories, but many of those have evolved to mainly summer camps for children and youth.
---
Webmaster: chdyoung@gmail.com