God Brings Bluegrass Back Together - MB107 - Jessup Records
A Country Gospel Bluegrass album by: Jimmy Williams and Red Ellis A Michigan Bluegrass Stereo Recording
---
Jimmy Williams
Jimmy Williams (Big Jim Williams) has been on the Bluegrass scene for quite a while now. He started playing professional music at the age of 13. Jim played with Mac Wiseman for about 5 years starting at Mt. Airy, North Carolina and going on to the famous "Old Dominion Barn Dance" in Richmond, Virginia. Later, Jim joined up with the famous Stanley Brothers. For about 6 years they worked on WCYB in Bristol, Tennessee-Virginia on the "Farm and Fun Time Show", where many of the now famous groups got their start. Jim also played with "The Lonesome Pine Fiddlers" for a while before he was converted and started singing for the Lord. Jim got together with Red Ellis in Detroit, Michigan and cut Bluegrass Gospel Records for a major label.
Jim is now an ordained minister and still singing and writing Bluegrass Gospel in his spare time. He also devotes time to his hobby, building musical instruments, and the mandolin used on this recording is one that he built. So, after some 15 years Jim and Red team up again for this recording and we sincerely hope that you get a blessing from it.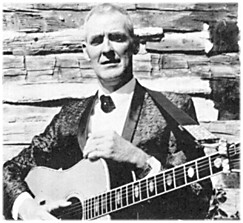 Red Ellis
Red Ellis, born and raised in Arkansas, started playing the guitar at the age of 17. At 21, he was drafted into service for 21 months, of which 9 months were spent in the Korean conflict being wounded twice in action. Upon returning home, he started school to become a Radio and Television Engineer. Since then Red has worked as a Gospel D. J. at various radio stations across the country. He presently resides in Arkansas with his wife Agee and two children, Linda Caroll age 10 and Marvin Lynn age 9.
Red met Jim one Sunday morning where Red was playing gospel records on an Ann Arbor, Michigan radio station and happened to be playing a record that Jim had recorded with the Stanley Brothers. Then Jim came to see Red and they started recording together. After a few years Jim went into Evangelist work preaching Gods word. As years passed, the Lord made it possible through Jessup Records for Red and Jim to record, "God Brings Bluegrass Back Together", on the Michigan Bluegrass label.
Engineered by Carl Fracula
Recorded at Jessup Recording Studios
Records Processed in Nashville, Tennessee
Cover Photo by Ray Eggleston
---
Side 1
Side 2

UNCONCERNED 2:47
Jimmy Williams & D. McKinley - La-Car - BMI
OLD FASHIONED CHURCH - 1:50
B. Carpenter - La-Car - BMI
CHILD OF GOD - 2:33
Jimmy Williams La-Car - BMI
FIVE SMOOTH STONES - 3:03
D. Zornes - La-Car - BMI
ORPHAN BOY - 1:59
Jimmy Williams - La-Car - BMI
JERICO - 2:25
Jimmy Williams - La-Car - BMI

HIGH ON THE CROSS - 1:33
Jimmy Williams La-Car - BMI
HAVE I DONE MY BEST - 2:05
Red Ellis La-Car - BMI
MY LIFE'S BEEN CHANGED - 1:59
Jimmy Williams La-Car - BMI
THREE CROSSES - 2:35
B. Carpenter - La-Car - BMI
BANKRUPT HEAVEN - 2:11
Jimmy Williams La-Car - BMI
I TELL MY FEET - 2:40
Jimmy Williams - La-Car - BMI
---
Home | Lyrics Index