Red Ellis and friends sing Gospel Bluegrass Music
Red Ellis has been singing and recording gospel bluegrass since the 1950's. Red has never been a full-time musician, yet he has played, sung, and recorded a lot of music. Red Ellis has performed and recorded as a soloist and with several groups including: Some of the groups Red sang and played with appeared on radio, TV and recordings. They were well known in their region and among gospel bluegrass or country gospel fans, but were never considered nationally famous. They may have gotten together to perform only several times a year. At other times the group members were likely performing with other groups or as solists.

Red has written and helped write several songs. He sings lead and baritone. He plays guitar, mandolin, bass, and sometimes fiddle. Red has been known to help some friends by playing in the band - sometimes playing several instruments by way of multi-track recording.

Red Ellis was born in 1929 on a farm near Arkadelphia, Arkansas. When he was in the 8th grade, the family moved to Malvern, Arkansas. When Red was about 18 years old (1947) , he started playing country music with T.F. Currington, who played guitar and acoustic bass, and T.F.'s father, who played fiddle. The three of them played at jamborees (music festivals) in the Malvern, Hot Springs, and Benton areas in Arkansas. At this time, Troy Smith had a radio program on KTHS in Hot Springs, Arkansas. He invited T.F. and Red to play with him. They did and were joined occasionally by Edd Coston, who taught Red a lot about harmony singing. Red recalls he also learned a good deal about guitar playing from Troy Smith.
In addition to performing together on the radio program, Red and Troy did personal appearances at schools and jamborees. The 1949 photo shows T.F. Currington, Troy Smith, and Red Ellis. Click on any outlined photo to see a larger version.
In 1951 at age 21, Red was drafted into the Army, and went to Korea as a medic. He was twice wounded. The first time shrapnel knocked out a tooth, and the second time it struck him in the leg. He received a purple heart. Red did not know if he would get out of Korea alive. During that time in Korea he wrote a letter to Jesus which he later adapted as a song.
Before his induction into the Army, he and Troy Smith were playing gospel and non gospel music, both got saved at a church service and have done only sacred and gospel music ever since. Red is using his talent for a ministry in hopes that through it someone may accept the Lord Jesus Christ as their Savior.
Upon his honorable discharge as a corporal late in 1952, Red returned to Malvern. In 1953, he decided to go to the Draughon School of Radio and Television in Little Rock. He then passed the FCC test for his First-Class Radio Telephone license. His license led to a job offer from American Airlines and a move to Ypsilanti, Michigan near Detroit in 1955. Before moving to Michigan, Red married Agee Nugent. Agee cowrote some of the songs that Red recorded, and she sang harmony on several songs.
After the move to Ypsilanti, Red went to work at Ford Motor Company and at radio station WHRV (later WAAM) in nearby Ann Arbor as an engineer.
In 1957, Red added DJ responsibilities to his work at WHRV. Many of the factory workers in and around Detroit were from the Appalachians who enjoyed the country and bluegrass music that Red played on the radio.
In the fall of 1958, Red was playing a Stanley Brothers record on the radio ("I think it was 'Memories Of Mother'"), and he received a call from a fellow who said he was playing mandolin on the record. Red says "I didn't much believe him, but invited him out, and when I heard him play I believed him." The caller was Jimmy Williams who by this time had worked with the Lonesome Pine Fiddlers, Mac Wiseman's Country Boys, as well as the Stanley Brothers. Jimmy was living in Detroit and working at a Cadillac plant at the time. Red and Jimmy started getting together to pick - Jimmy on mandolin and Red on guitar. By the later part of 1958, the two had put together a band and recorded several songs for what was to become their first release.
Red Ellis and Jimmy Williams both wrote songs - sometimes co-writing a song. The fact that Red was well known as a gospel bluegrass DJ probably opened doors for live performances.
The first recordings of the Williams-Ellis team were made in the studios of WHRV. Appearing on the first four numbers to be released were Red on guitar, Jimmy on mandolin, Cranford Nix on 5 string banjo, and Bobby Stiltner on upright bass. They recorded "You Can't Hide From God", "Going To A Home", "Future In His Hands," and "Without Me," all of which were released by Starday on an EP disc. At different times George Woody played 5 string banjo, Ed Bryant played fiddle, and Virgil Shouse played upright bass.
Red was the sole recording engineer for the record SEP105. They used a single microphone without any mixer: "Just plugged it into the back of the recorder. I have to give credit to all the fellows for their ability to move in and out from the mic at the right time." In fact, Red, first without and later with a mixer, engineered all but a few of the songs Starday ever released under his name and that of the Williams-Ellis team. He mentions that Starday invited him and a later band to cut a session in Nashville, but we never could all get off from our jobs at the same time."
Between 1958 and 1961 Red and Jimmy recorded 32 songs of bluegrass gospel that Starday released. Of these, 13 first were released on the EP format then late in 1961 on the classic "Holy Cry From The Hills" LP album, SLP 165. Although the cover of "Holy Cry" lists Jimmy and Red as the artists (apart from identifying one cut by the Acorn Sisters), two songs on it "Granddad's Prayer" and "Walking In Jerusalem (Just Like John)" were from recordings Red made (without Jimmy) with the Huron Valley Boys.
In 1960, the Williams-Ellis team recorded four sides for Laverne Wright's Happy Hearts label of Wayne, Michigan. Happy Hearts released two singles. Some of the numbers ended up on the Pathway label, some on Starday, and the ones on Pathway later appeared on the Old Homestead label.
The Jimmy Williams - Red Ellis team disbanded in 1961 when Jimmy went into full-time evangelistic work. As of this writing (2001) Jimmy lives in Panama City Florida and is still preaching.
Red then teamed up with the Huron Valley Boys, who consisted of Bill Christian on mandolin and singing lead and tenor, Leonard Styles on 5 string banjo, Arnold Patton on fiddle and singing bass and lead, and Aubrey Davenport on upright bass and singing tenor and lead. This core, along with Red on guitar, appear on several Starday releases. Red mentions that serving at various times as "guests" on recordings by himself and the Huron Valley Boys were his wife, Agee, Ed Clark, Joe Darty, Everett Sanders, Roy Maples, Nolan Faulkner, and Bill Carpenter. Additional information about the band members along with some photos are found on the record jackets -- click on album name links.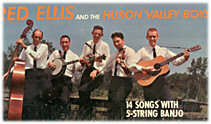 Between 1961 and 1963 Red and the Huron Valley Boys released 40 songs on Starday. Twelve of these first appeared on EP discs. Starday released the other 28 on two LPs, "The Sacred Sound Of Bluegrass Music," SLP 203, and "Old Time Religion Bluegrass Style," SLP 273. Furthermore, some numbers such as "More Old Time Preachin'," "Two Little Rosebuds", "Please Buy A Paper From Me (Little Paper Boy)", and "Get Down On Your Knees" found their way to LPs featuring various artists. We find Red and the Huron Valley Boys in company with George Jones, Flatt and Scruggs, the Stanley Brothers, Cowboy Copas, Jim and Jesse, and others.
By this time Red owned his own recording equipment. All Starday releases by Red and the Huron Valley Boys were mastered in a studio located in Red's home, and he served as the recording engineer. As Red says, "Engineering and performing at the same time is just not easy at all." However, the recordings probably sounded about as good as any done in more professional studios of the day.
From 1964 to 1967 Red sang with the group known as Red Ellis and the Crossmen. This group consisted of Roy Maples on rhythm acoustic guitar, Blaine Rhodes on electric guitar, Evert Sanders on bass, and Red on mandolin. Red says, "None of us played the 5-string banjo or fiddle and my mandolin playing was not much bluegrass so it was just plain old country gospel." Starday issued one EP disc by Red Ellis and the Crossmen. Red started his own record label called Pathway Records, and the group released several numbers on a Pathway LP in 1965. The album was "That Beautiful Land", PLP 157. The album cover includes some photos of the group. In 1987, Old Homestead released 28 cuts by Red and the Crossmen, as well as some other artists, on two LPs. A search of their online catalog in 2006 found none of Red's music.

In 1965 Red moved to station WYSI (later WSDS) in Ypsilanti with the same duties he had at WHRV. After less than a half a year, he moved to station WOIA / WOIB AM & FM in Saline, Michigan.

In November 1967 Red Ellis moved from Michigan back home to Malvern, Arkansas. He worked at Camden radio station KAMD (65 miles away) until May 1968 when he went to work for KATV, Channel 7, in Little Rock, Arkansas.

With the move back to Arkansas, Red once again joined up with his old friend, Troy Smith, to pick and sing at churches and church gatherings. Troy Smith pastored a small Assembly of God church in Traskwood, Arkansas (near Benton) for several years.

In 1971 Tommy Crank, artist and repertoire representative of Jessup Records in Jackson, Michigan, was instrumental in reuniting Red and Jimmy Williams to record two LPs released in the early and mid 1970s. One of these was titled "God Brings Bluegrass Back Together" -- MB107. For the first time since the 1960 Happy Hearts' sessions with Jimmy Williams, Red was freed of dual duties, "I got to perform only and let someone else do the controlling."

The second Jessup album was titled "Little David's Harp", MB154. You can see that the same photo on the front of the MP107 album cover was used for the front of MB154 with a bit of artistic creativity to make the covers look quite different.

In the early 1970's, Red was a frequent guest on the Cal Dring country music TV show which aired early mornings on KATV where Red worked as a technician. Some of the songs were just Red and his guitar, some were with Jimmy Williams, and a few songs had 4 people picking and singing. The shows were taped a few days before airing. Red kept copies of his segments.

In the mid to late 1980's Red and some friends from work recorded several songs on half inch 8 track tape. The tape recorder belonged to the station, so the only cost to the group was the price of the tape to record on. Besides Red, the group included Carroll Horne, Jim Goodin, and Charles Young. Multi-track tape allowed Red to sing several parts and play more than one instrument. So, some of those songs feature Red on the mandolin, guitar, electric bass, and fiddle.
Rocking Alone -- Carroll Horne
Judgment Day -- Red Ellis

Newsboy Jimmy Brown -- Red Ellis
Victims Of Abortion -- Red Ellis
In the year 2000, Charles Young added some fiddle parts to some of Red's earlier music via Cakewalk -- PC mixing software. Also during this era, Red purchased a 4 track cassette recorder. He and his wife Agee recorded several songs.

Red Ellis retired from the TV station in 1995, and soon began working as a volunteer DJ on community radio station KABF 88.3 in Little Rock, Arkansas. He plays bluegrass gospel music including some of his own music every other Wednesday night from 5 to 7 PM. He is also on the 1st, 4th, and 5th Sunday of the month from 2 to 4 PM. If he receives a request for a song he does not have, he sometimes records it himself -- just Red singing lead along with the guitar. Due to an extended illness, Red temporarily gave up his radio program for a while in 2004 and 2005.

Until about 2001 Red Ellis played and sang with others at rest homes and churches. Red often played and sang with a gospel bluegrass group at the small Assembly of God Church in Traskwood, Arkansas (near Benton). Besides Red, others in the group included; Troy Smith, Floyd Moore, Vance Smith, LaVaughn Smith, Wayne Sheridan, and Lewis Banard. We have recordings of some of their live music. Red now stays busy with other things and seldom gets to the singings. However, as of 2005 the church is still having singings once a month at their midweek service on Thursday nights.

Red Ellis and Friends averaged over 2,000 listens and downloads per month at MP3 dot com until it shut down in 2003. There were over 6,000 listens in September, 2001. Obviously people were interested in listening to small time musicians despite the fact that they were not well known.
How to get the music
We now have a few songs online for downloading. You can listen on your computer or make your own CDs. More..
Obituary; Marvin T. Ellis, 90, of Little Rock passed away December 29, 2019. He was born to the late William Henry and Fairy Lee Harrington Ellis on December 21, 1929, in Arkadelphia, AR. As a young man Marvin served our Great Nation in the United States Army and then had a career as a studio engineer at Channel 7. Marvin also had a love for playing Gospel Blue Grass Music.

Marvin is preceded in death by his parents; and a son, Marvin Lynn Ellis. Marvin is survived by his loving wife of 67 years, Agee Ellis; a daughter, Linda and son-in-law, Lawrence. Graveside services were held at Lone Hill Cemetery in Malvern.

Compiled by Charles Young from the following sources:
Some other artists we like;
Home | Webmaster: chdyoung@gmail.com