Holy Cry From The Hills - SLP165 - Starday Records
HOLY CRY FROM THE HILLS
16 - Mountain Sacred Songs - 16
With 5 String Banjo

A Country Gospel Bluegrass album by: JIMMIE WILLIAMS and RED ELLIS
Unlike today when people do not hesitate to pay full price for a CD containing much less than 74 minutes of music, in the mid 20th century few people would pay full price for a long play album that was not full of music.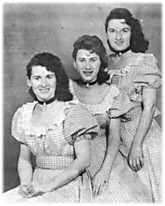 2 cuts on this LP were by Red Ellis and the Huron Valley Boys recorded after Jimmy Williams left to pursue full time evangelism, and a 3rd cut was by the Acorn Sisters who are pictured on the back of the cover (and at right).
"Sacred music in America takes many forms. There is church music with organ and chimes, there is the beautiful sacred singing by noted vocalists such as George Beverly Shea. Gospel quartets have a vast following. In the field of country music, sacred songs have been inseparably a part of this very American type of music. Many of the sacred songs that are performed by country artists have their sources in the old spirituals that the Negro sang on the plantations in the South.

Music of the mountain areas of America traditionally features the five string banjo, unamplified string instruments, and harmony singing with emphasis on the highest notes in the singers vocal range. This is a specialized type of music but its popularity seems to be spreading not only in America but in many foreign countries where American service men are stationed. Nearly all mountain type songs have a strong religious feeling or theme and music is an important part of religious services wherever mountain people gather to worship.

One of the most talented authentic groups specializing in the mountain type of sacred music is the team of Jimmie Williams and Red Ellis and their blue grass group featuring the five string banjo and mandolin. In assembling an album of this kind, which is dedicated to the pure mountain type of music, Starday felt that the Jimmie Williams and Red Ellis team had the lonesome sound, the sincere feeling, the musicianship, and the song repertoire to capture the "Holy Spirit" that exists in the hill country.

And as a featured extra, we included the original hit recording of WHERE WILL I SHELTER MY SHEEP by the Acorn Sisters.

This is the real, the traditional, the authentic, American Music -- mountain style, with the ringing, fervent, and emotional feeling that has made this type of sacred music everlastingly popular.

Starday, a label specializing in the traditional type of American country and sacred music, has long felt that this specialized mountain type of singing should be perpetuated and given the recognition that it deserves and it is hoped that this album will fulfill this purpose as well as to help spread the Christian word.

Respectfully submitted, DON PIERCE, President STARDAY RECORDS"
---
RANK STRANGER
Jimmy Williams and Red Ellis
Claude Ely
I HEARD THE CRY FROM THE CROSS
Red Ellis and Jimmy Williams
Ray Fletcher
Red Ellis
PRAYER OF SALVATION
Jimmy and Phyllis Williams
HOLY GHOST BUILDING
Red Ellis, Phyllis Williams, and Jimmy Williams
GRANDAD'S PRAYER
(Huron Valley Boys)
Aubrey Davenport
A HIGHER POWER
SINNERS DREAM
BACKSLIDER
Jimmy Williams
Phyllis Williams, and Jimmy Williams
DOWN AT THE CROSS
Jimmy Williams
WALKING IN JERUSALEM
(Huron Valley Boys)
---
Home | Lyrics Index