The Sacred Sound of Bluegrass Music - SLP203 - Starday Records
A Country Gospel Bluegrass album by: Red Ellis and the Huron Valley Boys
Pictured left to right
Aubrey Davenport, Leonard Styles, Bill Christian, Arnold Patton, Red Ellis
Edd Clark was featured on some of the songs on this album, and a photo of him and his group,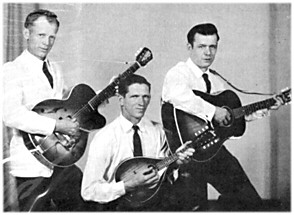 The Raisin River Boys, appeared on the back of the record jacket (seen at right -- Edd on the right). You may listen to this album on You Tube.
Text from the back of the record jacket:
---
"Bluegrass music, featuring the 5-string banjo, mandolin, open string guitar, and fiddle has become an important American art form. Bluegrass music is recognized as the grass roots source for American folk music and its popularity has spread throughout the world. A type of music that was formerly restricted to the rural and mountain areas is now enjoyed at college concerts and by folk and country music collectors everywhere.

A unique feature of Bluegrass music is the strong influence of sacred themes in most of the songs. America's rural and mountain people are deeply religious and consequently these feelings are expressed with great emotion and sincerity in their music. It is altogether fitting, therefore, that recognition be given to the importance of the Sacred Sound of Bluegrass Music.

One of the foremost and most talented professional career groups playing sacred music - bluegrass style is RED ELLIS and THE HURON VALLEY BOYS. This group uses the traditional, unamplified string music, featuring the 5-string banjo, and this wonderful group of entertainers are pictured on the front cover of this album. Reading right to left on the front picture are Red Ellis, Arnold Patton, Billy Christian, Leonard Styles, and Aubrey Davenport.

These boys were all born and raised in our Southern States and learned the art of pickin' and singin' the great old sacred songs during childhood. At present, this very excellent group works out of Ypsilanti, Michigan, near Detroit and makes personal appearances and radio broadcasts throughout the Midwest. The strong popularity of Country Music in the industrial areas of the Northern states results from the migration of many rural families from the South who now find employment in the factories of the North. Country Music is "a touch of home" to these people and it brings back nostalgic memories of "the good old days down South".

Country Music fans will be interested in the following information concerning Red Ellis and the Huron Valley Boys:

Red Ellis, the leader of the group, was born and raised on a farm near Arkadelphia, Arkansas. He started playing guitar at age 13 and is heard on the guitar in the album. Red also plays mandolin. He joined the Army at age 21, and served in the Korean War and was wounded twice in action. He became an engineer and country gospel disc jockey at Radio WHRV in Ann Arbor, Michigan. He developed a substantial following and formed Huron Valley Boys to fulfill the demand for personal appearances. Red composes a lot of good sacred songs and he selected material for this album and personally produced the recordings.

Edd Clark, born and raised in Monroe, Michigan is doing the vocal on "Thankful", "Just One Touch", "How Great Is My God", and "No School Bus In Heaven".

Aubrey Davenport hails from Centertown, Tennessee and plays bass on the recordings in the album. Aubrey now resides in Belleville, Michigan with his wife and three children.

Bill Christian is a Morehead, Kentucky boy who switched from guitar to mandolin in 1955. Bill is single and lives in Belleville, Michigan at present.

Leonard Styles was raised in Burnsville, North Carolina and is proficient on all the traditional bluegrass instruments including guitar, mandolin, fiddle, bass and banjo. He plays the 5-string banjo on these recordings. He now lives in Warren, Michigan with his wife and two children.

Arnold Patton was raised in Eastern Kentucky near Langley. He also plays all the Bluegrass instruments and is heard on the fiddle in this album. He lives in Wayne, Michigan with his wife and 3 children.

All the Huron Valley Boys are good Christian family men that reflect credit on Country Music. Their excellent musicianship and singing on these great Bluegrass sacred songs is an important addition to Starday Records which are devoted exclusively to country, sacred, and Bluegrass music.

DON PIERCE, President STARDAY RECORDS"
---
Songs on this record include;
---
Other Bluegrass-Sacred albums available on Starday:
THE GOSPEL SPECIAL - THE LEWIS FAMILY with 5-String Banjo SLP 193
THE HOLY CRY FROM THE HILLS - JIMMIE WILLIAMS & RED ELLIS SLP 165
THE LEWIS FAMILY - Anniversary Celebration - Songs with 5 String Banjo SLP 161
GET RELIGION - CARL STORY & HIS RAMBLING MOUTAINEERS SLP 152
EVERYBODY WILL BE HAPPY - CARL STORY & HIS RAMBLING MOUNTAINEERS SLP 137
GOSPEL REVIVAL - CARL STORY & HIS RAMBLING MOUNTAINEERS SLP 127
SACRED SONGS FROM THE HILLS - THE STANLEY BROTHERS SLP 122
SINGIN' TIME DOWN SOUTH with THE LEWIS FAMILY SLP 121
OLD TIME RELIGION COUNTRY STYLE - Sacred Songs with 5-String Banjo SLP 116
CARL STORY & HIS RAMBLING MOUNTAINEERS - America's Favorite Gospel Artist SLP 107
PREACHIN', PRAYIN', SHOUTIN' AND SINGIN' - 16 Country Sacred Songs SLP 103
---
Home | Lyrics Index